Louisville Plays Miami In Russell Athletic Bowl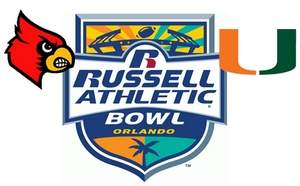 The time and place are set. The opponent has been chosen. The only thing left is to play the game! Louisville (11-1) will take on Miami (9-3) in the Russell Athletic Bowl, and that is just fine with the fans.
Louisville fans are anxious for another opportunity for their program to get more national exposure. A win over a high-profile team like Miami will do just that. The players and Coach Charlie Strong didn't really have a preference. They tend to take the competitive stance and want to face the "best available." They may have gotten it in this case.
More than just a game.
There is more to this game than just football. Louisville QB Teddy Bridgewater, like many college athletes these days, traveled far from home for his collegiate experience. The Miami, FL native will be returning to his home state to take on a program he is very familiar with to say the least. Whenever there are personal connections between opposing teams, the game takes on new meaning. "This is a special game from both sides," Strong said. ""They all know each other…It's just special."
Does either team have an edge?
Even with "home field" advantage, Miami does not appear to be a favorite in this one. The Hurricanes are coming off of a two year, self-imposed postseason ban. When they enter the Florida Citrus Bowl in Orlando on Saturday, Dec. 28, they will be facing a Cardinals team with four straight bowl appearances. The two teams are pretty balanced, but Bridgewater gives Louisville a slight edge with his skills and experience. The future first-round pro led the Cardinals to an "upset" of Florida in last year's Sugar Bowl. He is used to playing in the big game spotlight away from home.
Moon Mini Dumpsters proudly supports the University of Louisville athletics and academics. Bring us home a win! Go Cards!
Written by Bob Jones
https://www.moondumpsters.com/wp-content/uploads/2018/03/moon-dumpsters.png
0
0
Moon Dumpster Rentals
https://www.moondumpsters.com/wp-content/uploads/2018/03/moon-dumpsters.png
Moon Dumpster Rentals
2013-12-19 09:00:31
2022-08-23 09:42:15
Louisville Plays Miami In Russell Athletic Bowl