Jeffersonville, IN – also known as Jeff – is a small, but influential town on the Indiana side of the Ohio River. It acts as the county seat of Clark County, is the proud home of the original Papa John's Pizza, and holds several fun events in it's developing downtown, like the annual Abbey Road on the River Beatles music festival. With such a vibrant scene, Moon Mini Dumpsters is proud to offer the citizens and businesses of Jeffersonville, IN the best affordable dumpster rentals in Kentuckiana!
A Brief History of Jeffersonville, IN
Jeffersonville was founded as a settlement in 1786 strategically placed around Fort Finney with access to the Ohio River's protection and water. In 1801, it officially became a town and was named after Thomas Jefferson.
In the 18th and 19th centuries, Jeffersonville played crucial roles in several landmark events, including:
Functioning as a shipyard during the early-mid 1800s and during WWII
Being one of the largest routes for fugitives in the Underground Railroad
Being home to the Jefferson General Hospital – the 3rd largest in the nation during the Civil War
Being a main military supply depot during the Civil War and WWI

In fact, Jeff still a functioning portion of the original Quartermaster Depot running today!

De-segregating their schools 2 years before Brown v. Board of Education passed and being considered a model city for it
Jeffersonville has also had difficulties at points, though. It suffered because of the devastating Flood of 1937, when 90% of the city was flooded. During this time, there was no electricity and no escape, because all roads leading into the city were covered due to a levee failure. There was also a time period in the 1930s where Jeffersonville was nicknamed "Little Las Vegas" due to a booming gambling scene to recover from the Great Depression. This business was so big that it brought in famous mobsters such as Clark Gable, Al Capone, and John Dillinger. This did not last long, though, and the gambling scene was run out by the early 40s due to public outcry and rising violence.
Jeffersonville in Modern Times
In 2008, Jeffersonville made its largest annexation in the city's history, which expanded Jeffersonville's land and population by approximately 5,500 acres and 9,500 people. As of the 2020 census, the population rests around 50,000 people and the city limits encompass a total of 34.35 square miles of area.
The Big Four Bridge
With its proximity to Louisville by bridge over the Ohio River, the conversion of the Big Four Bridge into a pedestrian and bicycle bridge caused a larger amount of foot traffic to come into Jeffersonville, so they constructed the Big Four Station, which is a plaza and part that features green space, fountains, a playground, and access to downtown. This is also where the Abbey Road on the River music festival is held – the largest Beatles-inspired festival in the world!
Papa Johns Pizza
John Schnatter, the founder of Papa Johns, is from Jeffersonville and started his business – which is now the 4th largest pizza delivery chain in the US – in a small closet at the back of a tavern in 1984. Just 9 years after the first pizza was made, the company went public and now has over 5,500 locations across the globe. The tavern, which belonged to Schnatter's father, is called Mick's Lounge and is still functioning today!
Jeffersonville Boat & Machine Company
Jeffersonville's long history in the shipyard business came to a relative halt in 2018, when the largest inland shipbuilder in the US, Jeffboat (which was previously known as Jeffersonville Boat & Machine Company and Howard Shipyard during WWII) closed due to overproduction after 200 years. However, this 80-acre property is now under the jurisdiction of the city and, in 2022, it was announced by city officials that there were plans in the works to redevelop it.
US Bureau of the Census
Jeffersonville is also the home of the United States Bureau of the Census's National Processing Center, where a majority of collection, capture, and deliverance of census data occurs! This plant is one of Southern Indiana's largest employers.
Affordable Dumpster Rentals Jeffersonville, IN
With 7 different sizes to choose from, Moon Dumpsters is the best option for affordable dumpster rentals in Jeffersonville, IN. All of Moon's dumpsters are lightweight and can be easily maneuvered within tight spaces. Sizes range from 6 yards to 40 and are suitable for both residential and commercial applications such as:
Commercial Recycling
Construction Sites
Demolitions
Manufacturing Facilities
Renovations
Clean Outs 
Residential Dumpsters Rentals in Jeffersonville, IN
Moon's dumpsters are the ideal solution for those undergoing a major home clean out or renovation. Our 6, 9, 12, 16 and 20 cubic yard dumpsters are just the right size to hold debris from any kitchen and bathroom remodel or DIY project. For those moving a relative out or making a move themselves, Moon Dumpsters is an affordable option that will help get the job done quickly. Finally cleaning out the garage or basement? Don't let the extra debris pile up as you wait for weekly pick up.
When you rent from Moon you won't be the eye sore of the neighborhood. We deliver clean and properly maintained dumpsters that are driveway safe. Upon delivery, each dumpster is placed on boards for optimal surface protection. When you're ready to have it picked up, just call us and we will promptly haul away both the dumpster and trash from your residence so you don't have to load up your personal vehicle and make multiple trips to the landfill.
The right sized dumpster is an integral part to keeping any work site safe and clean. Whether you're a residential contractor or on a major job site, Moon's affordable dumpster rentals are durable enough to handle the job. We offer short term and long term contracts and will haul away roofing or fencing material leftover from a demolition. Our commercial dumpsters are also a great fit for those looking to simplify their recycling efforts or streamline their company's waste. With 30 and 40 cubic yard options, no task or need is too big!
Consider renting a Moon Mini Dumpster, no matter what size project you choose to undertake. Our driveway dumpsters come in 6, 9, 12, 16, 20, 30, and 40 cubic yard capacities. Affordable and lightweight, a dumpster will be delivered directly to you and placed on boards for surface protection. We are environmentally-friendly, locally-owned, and willing to work with any time frame. Give us a call at 502-772-2821 to learn more!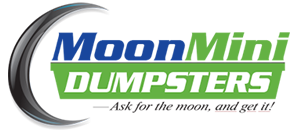 https://www.moondumpsters.com/wp-content/uploads/2023/10/Dumpster-Rentals-in-Jeffersonville-IN.jpg
911
1368
Moon Dumpster Rentals
https://www.moondumpsters.com/wp-content/uploads/2018/03/moon-dumpsters.png
Moon Dumpster Rentals
2023-11-16 08:30:57
2023-11-20 15:16:26
Affordable Dumpster Rentals Jeffersonville, IN