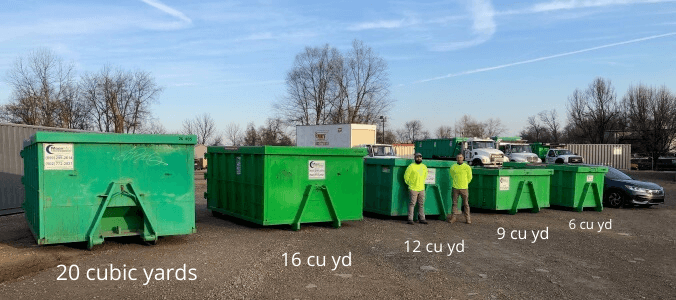 Renting a dumpster is a great way to handle personal, commercial, and other types of projects. There are a lot of sizes and types of dumpsters that you can select from in the process. Here's an overview of the dumpster rentals we offer and recommend for different projects.
Residential Dumpster Rentals
Moon Dumpsters offers a variety of dumpsters for rent that can take care of any size residential job. Our residential dumpsters are ideal for kitchen and bathroom demolitions, remodeling projects, and more. These dumpsters start as small as 6 cubic yards and go all the way up to 20 cubic yards.
A 6 yard dumpster is a great option for smaller remodeling projects like a small kitchen demolition, a basement overhaul, or redoing a garage. Many of our customers also choose this size for a lawn or yard cleanup. It offers enough space for those smaller projects at a great price.
A 9 yard dumpster offers a bit more space then the 6 yarder. As such, it's a perfect fit for a normal sized kitchen remodeling job, or even a small kitchen plus bathroom remodel. It is also great for a deck demolition up to dimensions of 10'x18'. This dumpster will serve more medium-sized basement or garage renovations well too.
12 and 16 yard dumpsters offer extra space that you may need for some of those larger remodeling or demolition projects around the house. A large kitchen, basement, or garage that you are working on would benefit from this size. Our customers who are working on multiple smaller or average-sized projects tend to select this size too, given the extra space it provides. In particular, the 16 yard dumpster is a good option for multi-project needs given the large amount of debris and items it can hold.
Our 20 yard dumpster is the largest residential dumpster we offer. It has the capacity to handle all of the projects our smaller dumpsters can, at a larger scale. It's also a good fit for a significant home addition project, a large fencing job, or a multi-deck demolition. This is the dumpster to rent if you know you'll have a lot of material to content with.
30 and 40 Yard Dumpsters
Moon's 30 and 40 yard dumpsters are an excellent choice for commercial jobs that need space for waste at a large scale. Our customers typically include contractors, construction sites, large building demolitions, and even commercial recycling jobs. The massive space these dumpsters offer make them very useful for large scale professional jobs.
Pricing and Quotes
We offer details about our dumpster rentals on our website including pricing, sizes, and FAQs. We have a customized quote form you can fill out, after which you will receive pricing and more information about our rentals.
If you order soon, you can take advantage of our current Seasonal Special! We are offering $10 off all dumpster rentals in both the Louisville and Lexington areas. Book now to lock in this great deal while you can! We work with our customers to make the process simple and straightforward. We can even help you with the dumpster permitting process- read our previous blog post here to learn more.
Moon Dumpsters makes sure that waste disposal is as environmentally-friendly as possible, with efficient trucks and green disposal practices. To learn more about Moon's full-service dumpster rentals and get the dumpsters you need, visit our website or call us at 502-772-2821 today!
https://www.moondumpsters.com/wp-content/uploads/2020/10/20_cubic_yards.png
300
676
Moon Dumpster Rentals
https://www.moondumpsters.com/wp-content/uploads/2018/03/moon-dumpsters.png
Moon Dumpster Rentals
2021-05-13 09:30:06
2022-11-28 11:07:31
Dumpster Rentals with Moon Dumpsters