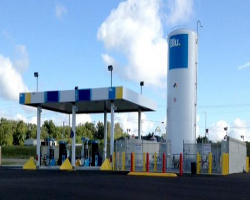 Blu opened Indiana's first liquified natural gas (LNG) station this past September.
The station is located in Sellersburg off I-65 in southeastern Indiana. Local residents and lawmakers were on hand to welcome what many consider to be the future of fuel in America.
What is LNG?
Liquified natural gas (LNG) is pumped out of the ground in gas form. When the gas is reduced to -260 F it becomes a liquid. At this point it can be stored and transported easily for use.
What is LNG used for?
Liquified natural gas is most commonly used for heating and energy. Over 3/4 of the commercial and residential sectors use natural gas. LNG can also be converted into compressed natural gas (CNG) and used for automobiles. CNG is often used by fleets of vehicles. Some automobile makers have CNG models that do not run on any gasoline.
LNG benefits greater than gasoline or diesel.
Benefits of using LNG include:
low cost
safer for the environment
domestically abundant
All of this points to a significant reduction, and potential eventual elimination, of American dependence on foreign oil.
Moon Mini Dumpsters supports the use of alternative fuels and other environmentally friendly programs.
We are proud of the progressive and resourceful businesses in the southeastern IN and Louisville, KY areas.
Written by Bob Jones
https://www.moondumpsters.com/wp-content/uploads/2018/03/moon-dumpsters.png
0
0
Moon Dumpster Rentals
https://www.moondumpsters.com/wp-content/uploads/2018/03/moon-dumpsters.png
Moon Dumpster Rentals
2013-12-12 11:50:49
2022-08-23 09:42:28
Indiana Opens First LNG Station In Sellersburg