Dumpster Rentals Lexington KY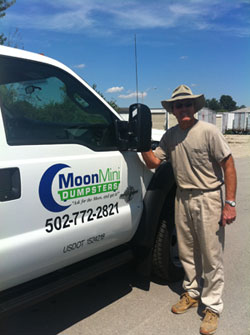 Moon Mini Dumpsters offers the most unique roll-off dumpster service in the Lexington area.
We provide exceptional service to residential and commercial customers that require trash hauling and junk removal with equipment that fits into the "mini dumpster" category. When a 20 or 30 yard roll-off dumpster bin is not right for your job site or job size, we will provide smaller trash containers that save you space and dollars while taking care of your junk and waste disposal needs.
With our small, highly maneuverable trucks, we are able to situate dumpsters in tight locations unsuitable for larger commercial vehicles. Our vehicles are lighter and more appropriate for residential driveways that may not tolerate the heavier commercial trucks.
Unique Space Saving Dumpster Design and Delivery System Provides Moon Mini's with a distinct placement advantage!
Because our trash hauling containers are in the "mini-roll-off" category, they are delivered by smaller, more maneuverable trucks. Moon Mini roll-off dumpsters can be placed in hard to reach areas such as alleys, near garages and in backyard areas.
Mini Dumpster Containers Lexington  KY
If you are a builder, remodeler, or "do-it-yourself" homeowner, our construction dumpsters service will meet your needs. We have dumpsters in sizes that are perfect for small and medium size projects.
Homeowner Waste Management – DIY home improvement projects, house cleaning and moving
Fire & Water Damage Restoration
Remodeler Waste Disposal- Bath, kitchen, and deck tear outs
Construction & Demolition Waste- Confined space jobs, hard to reach placements
Landlords Junk Removal- Tenant move out / refinish, proper waste management
Location:
Address: 1180 Manchester Street, Suite E
Lexington, KY 40508